For Ted Baker – London Signwriter Nick G
November 12, 2011
London Sign Writing: Ted Baker new store fit-out
NGS completed 11 in-store panels for Ted Baker's flagship store in Bluewater Kent. The brief was to bring hand painted feeling to the logos of several themed interior settings using layouts produced by the in-house design team.
The nostalgia "Tedbury" concept included various village shop sets with quaint writing – a tea shop and butchers a chemists… these interior wall and ceiling sets were literally dissected and displaced creating a visual constant, yet shifting context around the store… heaps of mirrors assisted the whole shabaz, The mix of Goth typography and Victorian ornamentation made the writing fun and after we went over with a distress rub down and glaze, the panels really looked the part.
We are constantly being asked to create aged and retro surface finishes on shop signs and displays these days and it is becoming one of our specialities.
A few weeks later the 2 million pound makeover was complete and running.
Special thanks to Julian Brown and all the team and shopfitters.
Article by Nick Garrett, NGS TheLondonsignwriter.com
Enquiries 07831173396 00392381518426
Nick Garrett London Signwriting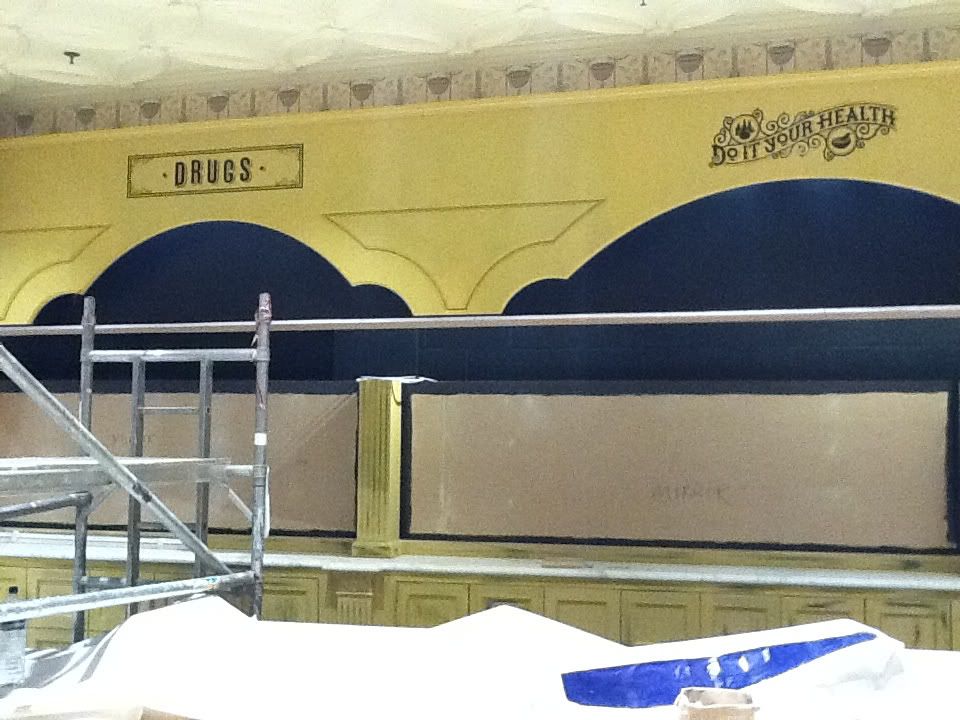 The Apothecary signs in the new flagship Bluewater 'Tedbury' quirky themed store
…sign writing in Blue Water Kent the fab new Ted Baker store…
Nick Garrett
writing a small metal inset panel for the butcher's bicycle sign – we decided to keep the pitted painted surface and allowed a bit of creative wander on the freehand writing.
Above: Our distressed ornate sign-written tag
Big thanks to John Pope, Dave Uprichard of OPT (
http://www.otpstudio.com/
) for great layouts and TB fitters and VM designers for preparing the artwork.